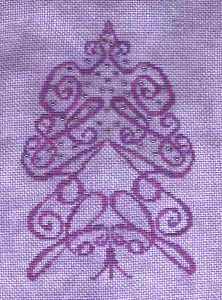 Pals Name Tree by M Designs. This another exchange project due in July. I still need to finish adding the beads and figure out how to finish it. It's stitched on 32 count Purple Punch linen with 1 strand of floss over 1 thread.

My first feeble attempt at Hardanger. This was a Challange class from India Grace Designs Yahoo group. If I had have more information this project would have turned out better. I am glad I made this and tried Hardanger, I just don't like my choice of fabric & threads. Plus when I trimmed the outside I cut several threads so now I can't use it. But at least I tried it and I am satisifed with that.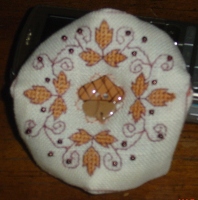 This is my second Biscornu. The design is from Dinky Dyes and it stitched with Dinky Dyes silk flosses on 32 count linen.
I Love this.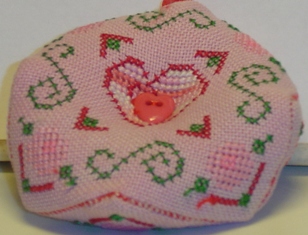 This is my first Biscornu, it was fun and easy to make. A Biscornu is a fancy word for pin cushion. The pattern is a SanMan Valentine design.