Swirly Heart Tuck from the 2006 Secret Shop I used Eterna Silk floss on this project

Oh Holly Night stitched on 32 count hand dyed evenweave with hand dyed floss.

Moose Be Christmas stitched on 28 count white linen. I used metallic threads for the ornaments and a tiny strand of Christmas light "beads" on the antlers.

Autumn Leaves is stitched on 32 count hand dyed fabric with DMC floss and SanMan strands.
Autumn Leaves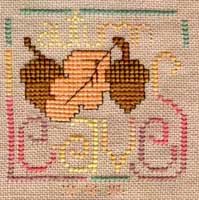 Harvest Moon from the Secret Shop is stitched on 32 count hand dyed fabric with SanMan Strands
Harvest Moon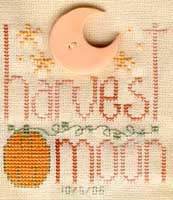 Snowman Wishes and Gingerbread Dreams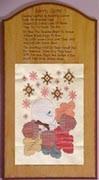 Acorn Snow stitched on 28 count Platinum Pizazz Reflections from Silkweaver with San Man Strands. My friend Virginia made the frame.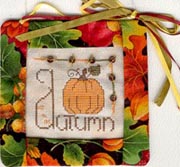 Autumn freebie stitched on 28 count hand dyed fabric from dyein4u with DMC floss. I made the tuck hanger it's in.

Don't Bug Me, a little tuck kit from Sandy's Secret shop.