On this page you will find special projects that I've done for Weddings, births, anniversaries, exchanges and other special ocassions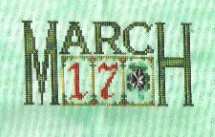 This is Hinzeit's Charmed Choice March 17. This was made special for my son's girlfriend's birthday which is March 17. I modified 2 patterns into 1 for this version and it's stitched on 32 count Erie Hand dyed opalescent fabric from Enchanted Fabrics with Weeks floss.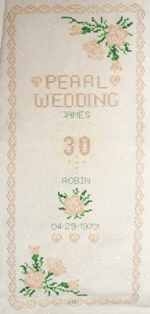 This is my 30th Anniversary project. It is from the same designer as my parent's 60th. This is stitched on 32 count Antique White opalescent fabric with DMC floss. It is a combination of 2 patterns. It still needs something but not sure what.

I stitched this for my parents' 60th Wedding Anniversary in September of 2006. It's a kit from Creative Needle Sewing Club and it's stitched on 36 count white evenweave with Anchor threads. I added a small crystal bead under the heart.
My 25th Anniversary project for my husband and I, a year late, but better late than never. I started this on March 2, finished on April 12, 2003.
The pattern is called Milestones Anniversary by Kulik Kreations. The fabric is 28 count evenweave, I dyed the color blue myself.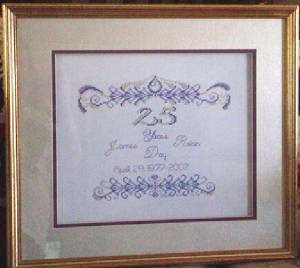 This is a gift my daughter stitched for me for Mother's Day. I just love it!!!