This is called Breast Cancer Mandela, I don't remember who the pattern is by but it was a free pattern. I started this in May of 07 as something for my daughter's Mother In Law who was undergoing treatment for Breast Cancer. Her mother in law survived the breast cancer and chemo treatments only to lose her life in October of 07 to heart failure. I am going to finish this project in honor of Bonnie's courageous fight.
Edited to add, apparently someone didn't like the fact that I wasn't sure of the name of the designer when I added this so they wrote me a nasty note.
THE DESIGNER OF THIS PATTERN IS INK CIRCLES!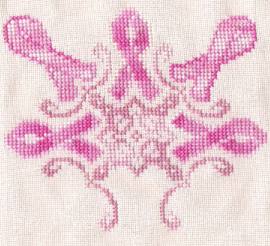 If you click on the picture it will open larger in a separate window
Welcome Mat kit from Dimensions. I am stitching it on 32 count hand dyed fabric from Silkweaver rather than the 14 count aida it came with. I started this October 24 2006, this is my progress as of Oct 30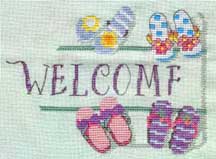 Pam Kellogg's Christmas Mystery 2003. This is far as I've gotten as of May 2005.